I made these little treat boxes for the girls I used to work with. Paper is Provo Craft Christmas Cheer, except for the blue with Christmas trees & it's Creative Memories Starry Night; cart used was TBBM & they were cut at 4.5 *I think*. Ribbon is from Dollar General, Big Lots & Michael's.
And here is little bag I made that holds a little "happy" for a friend of mine who's gotten into card making (yes, I proudly enabled her! Hey Sharon if you see this!!!!). I got her 2 bottles of stickles. Instead of using tissue paper or confetti, I rolled and taped up different sizes of scrap paper. All paper in this project is Creative Memories Starry Night paper. The ribbon is actually cut from a garland I got at Dollar Tree.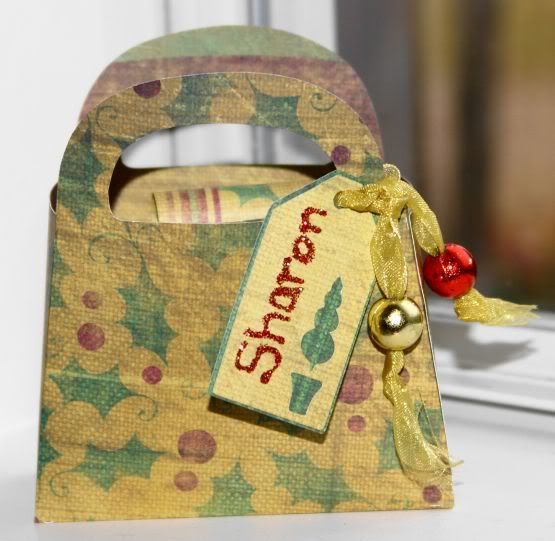 I saw the tutorial for this paper bow on Splitcoast Stampers a few days ago and thought it was too cute. My DD's class were exchanging gifts and after she wrapped it, I remembered that I left the bows and tags in the attic. Then it dawned on me...."I've got that awesome expression and can make a waaaaay better tag than one of those peel and stick boring ones." So, I got to work. The tag is the scalloped square tag from Christmas cheer & so is the reindeer. It's hard to see, but I used Jasmine to cut "to" and "from" (I got home from Christmas shopping to find it on my front porch, just begging me to try it out.). I used diamond stickles on the words and candy cane stickles on the reindeer's horns, hoofs, neck & nose (to match the reindeer on the wrapping paper.). DD asked me to "glitter it up" on the names, so that's why the words are so hard to read. After I finished the tag, I was trying to find some ribbon to use for a "bow", and then remembered that SCS paper bow. I used Creative Memories Candy Cane paper for the bow, CM Everyday power palette paper for the green tag, & CM red card stock for the "shadow" tag. Brown & black CM card stock was used for the reindeer. TFL!!!